Welcome to the Intersection of QUAlity, MEtrology, and TEChnology. If this is your first time here, let me introduce you to QUAMETEC™ and the online Institute. This site is owned and managed by the Quametec™ Corporation of Michigan, USA. Since 1998 Quametec™ has provided Metrology Consulting, Training and Microsoft® Office® based custom software solutions for ISO/IEC17025 accredited Testing, Calibration, and Inspection Laboratories.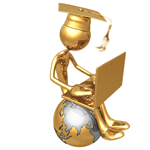 This Site serves Two Objectives:
1. As a Metrology Education Center that provides practical, economical, self-paced online education in support of the needs of testing, calibration and inspection laboratories that operate under the international requirements of ISO/IEC 17025; "General requirements for the competence of testing and calibration laboratories".
2. A Software Download & Support Center for Quametec's unique Microsoft® Excel® based "Viewable-Math" software products. Which are designed to provide practical solutions in customizable packages that efficiently and effectively address the requirements of ISO/IEC 17025 Laboratory Accreditation.
We are pleased to provide those seeking assistance and/or personalized training in performing measurement uncertainty analysis using UncertaintyToolbox™ with a list of qualified Metrology Consultants.

CAPA+™ is a Microsoft Excel based solution for documenting Corrective Actions, Complaints, Nonconforming Work Investigations, and Improvement Actions in ISO/IEC17025:2017 accredited laboratories.


SOFTWARE Demo/Training VIDEOS


UncertaintyToolbox™ requires some pre-installation changes to some of Microsoft® Excel® macro settings, as well as some recommended Post Installation changes.
NOTE: These videos use a much older version of the UncertaintyToolbox™ software, although the process is much the same. The latest version offers numerous addition user-friendly features.

UncertaintyToolbox™ is a general purpose professional Measurement Uncertainty Analysis add-in with templates for Microsoft® Excel® 2013 or newer.

UncertaintyToolbox™ comes with a set of interfacing templates. Series 2 addresses some of these included templates.

CAPA+™ for ISO17025 is a very advanced and specialized ISO/IEC17025 Accredited Laboratory Quality Event Hander. It features a logical process Combo-Form, which allows Complaints, Non-Conforming Work Investigations, Corrective Action and Preventive Action all on the same form, unhiding sections as needed. This form is connected to an Auto-Logging System which provides Assessors and Quality Managers a unique over-view of all Quality Related Issues. Designed by a Trainer of Assessors.
Skip qimt news
QIMT News
(No announcements have been posted yet.)
Skip modules
Modules