Quametec™ Metrology Software User Groups

and User Support Center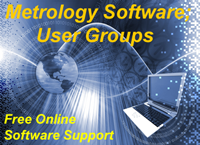 With the exception of the Metrology FREEWARE User Group, which is free to join, this area is reserved for licensed users of one or more of the many open-math VBA/Excel based metrology software products from Quametec.
If you are a licensed user of one of the listed products, contact Quametec (M-F EST 9 am-4 pm) at 1-810-225-8588 or send an email to
info@quametec.com
to get your FREE "enrollment key". Membership is FREE to licensed users of the Quametec software products supported here.
If you are interested in learning more about any of the commercial products from Quametec that are supported here; please go to the